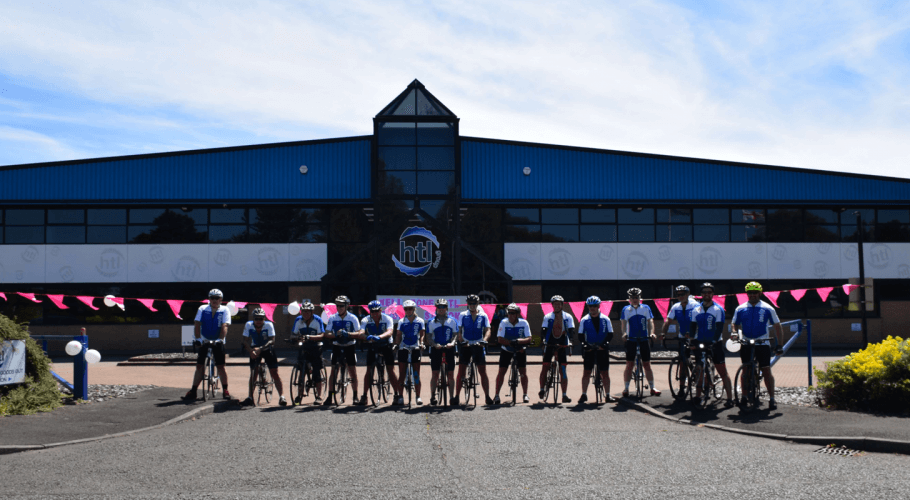 Controlled Bolting OEM raise £4,000 for children battling cancer with cycling challenge
Global OEM HTL Group set out to raise £1,400 by cycling 140 miles this month in aid of their nominated charity Jessica's Sarcoma Awareness to support local children and teenagers battling cancer.
Raising £4,000 has come as a well-earned surprise for the 15 cyclists who were joined by family and friends from the charity to complete the challenge from Edinburgh to their HQ in Cramlington.
Over 2 days, the 'HTL 140 Cycling Team' covered in excess of 150 miles, with over 90 miles covered in 8 hours on day 1 alone. Greeted back at HQ by friends, family and supporters from the charity, the cyclists enjoyed a well-earned celebration.
Every year the controlled bolting manufacturer take on an annual cycling challenge along with other fundraising activities to support the local charity.  This year's total takes the grand total raised from the HTL Group cycling challenges to over £15,000. The support and generosity of supporters is unbelievable and is greatly appreciated by the riders and Jessica's family.
Jessica's Sarcoma Awareness was set up by Jessica Robson's family after Jessica sadly lost her battle to a rare form of cancer; Alveolar Sarcoma, at the young age of 18. Alveolar Soft Part Sarcoma (ASPS) is a very rare, slow-growing tumour of an unknown origin, which arises primarily in children and young adults.
The charity's mission is to achieve Jessica's dream of building a respite lodge for families and children who are battling cancer. The lodge project which is almost complete now, will provide families with a place to stay whilst undergoing cancer treatment at the RVI hospital in Newcastle, as well as offering a chance to make treasured memories away from home.
Julie, Trevor and Nicole Robson comment:
"Yet another great weekend for Jessica's Sarcoma Awareness with support of HTL, 15 riders, support crew, all the office staff, and HTL's suppliers. We took on a great challenge from Edinburgh Castle to HTL Group's HQ in Cramlington; the awareness we send out along the route to children's cancer is amazing, and as always we did it with a great team. The money they raise is fantastic, and the support for Jessica's charity is always much appreciated.  

The challenge can be gruelling at times but it's nothing compared to what teenagers and children who are fighting cancer go through.

We are already looking forward to our next challenge, thanks again everyone for all the support & sponsorship received.

We will one day beat this horrible disease."
To donate to Jessica's Sarcoma Awareness simply visit the virgin money page https://uk.virginmoneygiving.com/Team/HTL140 to make your donation. We all thank you in advance for your very kind generosity.