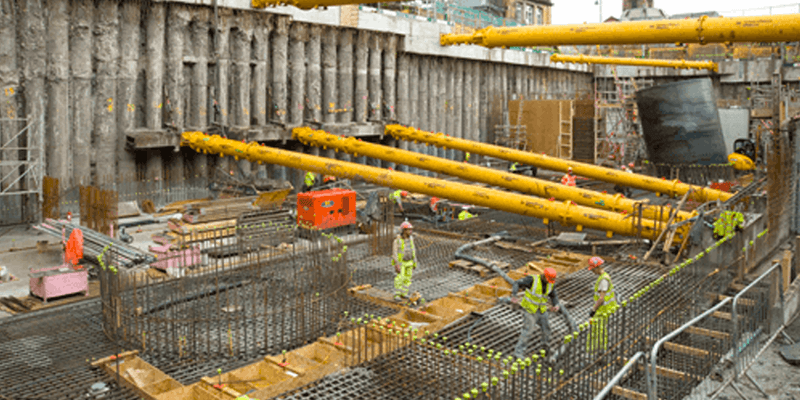 Bolting Bracing Systems with Accuracy
A bracing system, in its basic principle, is used to stabilise a structure during the construction process. They are required to aid the distribution of load and provide restraint to compression flanges or chords where they would otherwise buckle.
Bracing is predominantly associated with bolting rather than welding as bolting bracing systems allows them to be easily transported and assembled on site.
A bracing system is an essential secondary part of a bridge structure, however they are also suitable for buildings. They are the ideal replacement where tie back anchors can't be used due to surroundings, such as basements, assets onsite and also when permits are refused.
Once the construction process is complete, it is the general consensus that best practice is to leave the bolted bracing in place. Although the weight of bracing is not much of the proportion of the overall tonnage, it is more work to unbolt and remove the brace and this can also lead to heavy handling.
A situation where bolted bracing is suitable to leave in place after installation is under a bridge as bracing can be cumbersome to manoeuvre and it may take up load, making it difficult to remove bolts. Leaving the bracing in place can prove useful should the bridge or building need to be demolished in the future; the bracing can be used to stabilise the steelwork or structure.
Strut flange connections bolted via a flange plate using M20 bolts (c/w nuts and washers with a recommended minimum torque 300Nm) are a prime example where bolted connections are utilised in bracing systems.
HTL's Norbar EvoTorque is the essential bolting solution to ensure that the correct torque is achieved when bolting bracing systems and various other bolting applications. The EvoTorque will prevent both over-torqueing and under-torqueing, eliminating stresses on the bolted connection.
The EvoTorque is a robust, electric torque tool which is light and maneuverable for the operator. Providing a digital read out and a clear go/no go feature when the correct torque is reached, you can be assured that all bolts are torqued correctly.
Available to hire or purchase, HTL have a variety of EvoTorque models readily available covering a range of 200-6000 Nm/147-4500 lb.ft.
Calibrated within +/- 3, each EvoTorque guarantees that there is minimal margin for errors making it the most accurate, efficient, ergonomic and intelligent tool available on the market.
For more information on how the EvoTorque can make bolting connections faster, safer and accurate simply email info@htlgroup.com or call +44(0)1670 700 000.