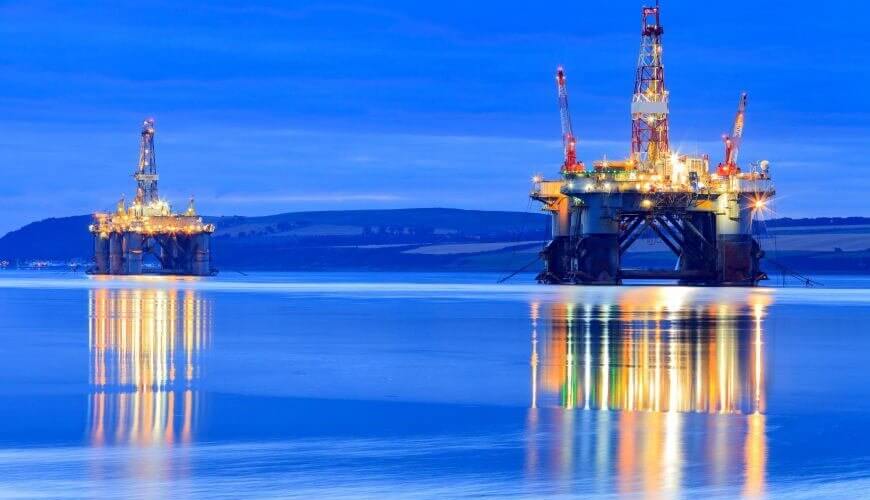 Subsea and Topside Tensioning
Tensioning permits the simultaneous tightening of multiple bolts. Tensioners are connected in sequence via a high pressure hose assembly to a single pump unit. This method ensures that each tensioner develops the exact same load and provides a uniform clamping force across the joint, avoiding damage and ensuring a secure sealed connection is achieved.
Tensioning is the direct axial stretching of the bolt to achieve preload which ensures that inaccuracies created through friction are eliminated. Simple hydraulic pressure replaces the mechanical effort to create torque however tensioning does require longer bolt lengths and a suitable seating area around the nut.
Compared to other less accurate tightening methods, HTL's range of Hydraulic Tensioners allows for:
Accuracy: The applied load is controlled very accurately, it is directly proportional to the pressure applied to the tensioner.
Calculated load: The load transfer factor is calculable, helping to give the correct residual load.
Direct application: Tension is applied directly to stretch the bolt, less friction or losses are realised.
Efficiency: Operation of tooling and improved accuracy reduces the time required to retighten the load.
Reliability: Uniform bolt loading ensures a high level of accuracy by applying a consistent force.
Stress free tensioning: Purely axial, tensile loading ensures no torsional stresses are introduced
Versatility: Tensioning allows for loading multiple fasteners in a joint at the same time.
General Procedure
Fit the bolt tensioner over the stud.
Apply the hydraulic pressure to the tensioner, this will stretch the stud.
Wind the stud's nut down against the joint face.
Release the pressure and remove the tensioners from the bolts.
As the bolt behaves like a spring, as soon as the pressure is released the bolt is under tension and contracts, this creates the required clamping force across the joint. Tensioning allows for 100% tension to occur straight away, saving time topside and also subsea.
Tensioning processes can be set up using either a 50% or 100% tensioning procedure.
A 50% tensioning procedure is where only half the bolts are tensioned simultaneously then relocated to the remaining bolts.
Alternatively, a 100% tensioning procedure can be used, where all the bolts are tensioned simultaneously. However, this requires more tools to cover all bolts on the joint.
Topside Tensioners
The innovative spring return feature allows HTL's Spring Return Tensioners to be used across multiple industry sectors, including oil and gas, power generation, petrochemical and related industries.
Designed to increase and improve the productivity and the safety of the operator, the spring return design enables automatic piston retraction at the end of the tensioning sequence, ensuring the tools are prepared and ready to be removed and applied for the next cycle.
In comparison to traditionally designed tensioners, the HTL range of Spring Return Tensioners allows ease of use for the operator through their enhanced design which includes an anti-slip tool surface to improve grip. The design also incorporates a dual port which allows the operator to daisy chain multiple tensioners together, removing the need and expense of 'T' pieces.
All models within the range have a stroke of 10mm and cover ranges from 3/4" – 4" bolts making them suitable for use on a vast range of flange sizes. All models within the range offer both metric and imperial inserts as well as oversized versions for galvanized studs.
Features and Benefits:
Automatic piston reaction
Anti-slip tool surface
Dual port
Oversized versions available
Maximum tool pressure – 21,750 psi
TIP: the number of hoses required is the same as the number of tools to be linked. A simple formula to remember.
Subsea Tensioners
HTL's Subsea Tensioners provide the most cost effective solution to subsea bolt or stud tightening.
With a stroke of 30mm and covering bolt ranges from 3/4" to 3 1/2″, HTL's Subsea Tensioner's also feature a quick reaction nut to improve diver safety and productivity whilst minimising diver fatigue.
Features and Benefits:
Misalignment compensation
Quick, simple connection
Quick reaction subsea tensioner
Simple diver operation
Visible piston stroke indication
Piston/cylinder misalignment compensation
Anti-slip cylinder surface for improved handling
Low friction seals
Anti-corrosion coating
Designed to fit BS1560/ANSI B16.5/API flanges
HTL deliver versatile solutions which will improve cost and time efficiencies. Start preventing failures today by ensuring 100% accuracy every time with HTL's extensive range of solutions:
Contact us to arrange a free demonstration of our industry leading bolting solutions or to get an instant quotation. Call +44 (0) 1670 700 003 or email info@hiretorque.com/info@htl-australasia.com.
Related articles: http://www.hiretorque.co.uk/advantages-of-controlled-bolting-techniques/