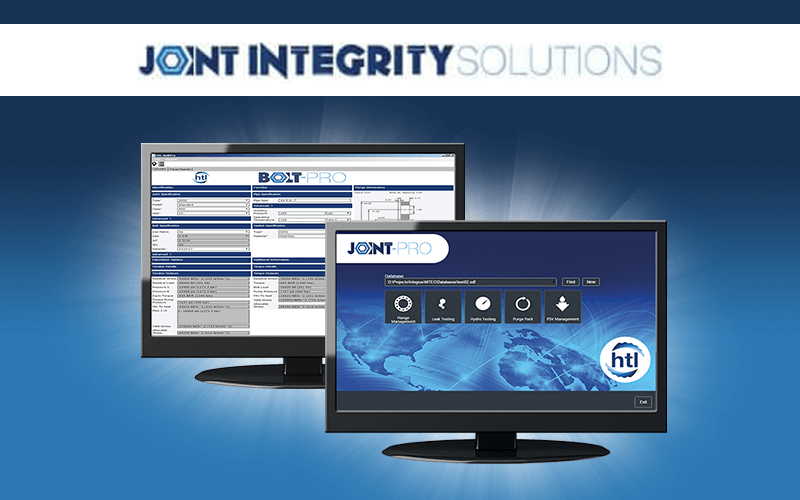 Why use bolting software?
Bolted joints in particular can be a source of concern for engineers, as frequently assumptions are made to assess whether the joint is capable of sustaining the forces applied to it. Failure of a single bolted joint can have disastrous consequences for the reliability and safety of bolted connections. As we've learned the reliability and safety of bolted connections is par It was with this problem in mind that HTL launched the bolting software packages Bolt-Pro and Joint-Pro.
Ease of use
These essential software packages have been designed to easily assist operators by automatically entering standard information such as thread pitch and bolt dimensions as soon as the bolt diameter has been entered. Although the packages can pre-populate information, they also have the functionality to allow the user to change any data entered automatically to suit their specific requirements.
HTL's Bolt-Pro and Joint-Pro are used for the planning, data capture, analysis and reporting of all activities related to the inspection, maintenance and testing of bolted joints.
Both bolting software packages offer simplified management and control of complex process systems:
COMPLETE comprehensive database of all bolted joints
EASY TO USE PC based Windows application
FLEXIBLE full range of standard and custom reports
SECURE data, no data leaves user control
Why keep records?
Historical data uncovers and highlights patterns and problems.
SAFETY starts with good, accurate information
QUALITY accountability improves performance
SCHEDULE records aid in planning and sequencing of repairs and maintenance
HTL recognise that many organisations require a software package to ensure that the consistency of high bolting standards is maintained. With Bolt-Pro and Joint-Pro, the type of flange and lubricant used is taken into consideration to ensure the operator is provided with the most accurate data.
Joint-Pro
With decades of bolt working experience, HTL have incorporated bolt tightening data, procedures and recommendations for standard flanged joints into a single computer software programme; Joint-Pro.
HTL's Joint Integrity Software package includes:
Tightening data for flanged joints
Torque data and tensioning tool pressures for both subsea and topside applications
Bolt extension calculations
Tightening procedures and torque sequences
Joint specific recommendations for improved integrity
Database of bolt lubricants
Dimensional data of flanges
Recommended bolt lengths
Simple user interface with 'Windows' look
Functionality
Joint-Pro incorporates all of Bolt-Pro's essential features, but also includes full traceability and control of all activities associated with the joint/connection including:
Joint disassembly/breakout
Machining/re-facing
Joint assembly
Bolt tightening
Testing (Hydrostatic, Pneumatic, Nitrogen or Helium)
Leak history and incidents
The system – how it works
HTL's bolting software (joint integrity software) has been developed to advise process pipeline contractors and engineers on accurate tightening data for ANSI, MSS, API topside and subsea flanges.
The software allows the user the option to create an individual file for the flange application. From there you can then select from a number of drop down menus covering the flange class, flange size and joint type. The normal bolt size and bolt tightening data will be shown either in metric or imperial based on the user's preference. Although typical standard information is automatically generated, the software does allow the user to input data to produce specific calculations based on that input.
A dimensional drawing of the flange is also shown on screen which can assist to identify flanges that may have lost their stamped identification details. Further information provided includes the bolt length, bolt & nut dimensional data, bolt material data and the torque or tension calculation data in detail. The software can also advise the recommended torque wrench, load cells, pump pressure settings for torque or tensioning of the joint.
Project control and review by visual status display of each joint
Performs as a central source for documentation and records associated with each activity or task
Provides joint tightening procedures and methods
Generates tooling lists
Provides and maintains historical data for each joint
Search engine to find and display specific flanges/records
Embedded equipment database providing access to service records, tool calibration, etc.
All of the input data is calculated and the information can be saved and customised or create and file print outs of Work Instruction Sheets along with Joint Completion Certificates
User logo facility to allow users to upload their own logo and address details to be generated on each new document
Discover how you can have complete flange management and leak testing activities at your fingertips by claiming your free 3 day trial of HTL's Joint Integrity and Bolting Software today. Contact Us: Simply email info@hiretorque.com or call +44 (0)1670 700 003.