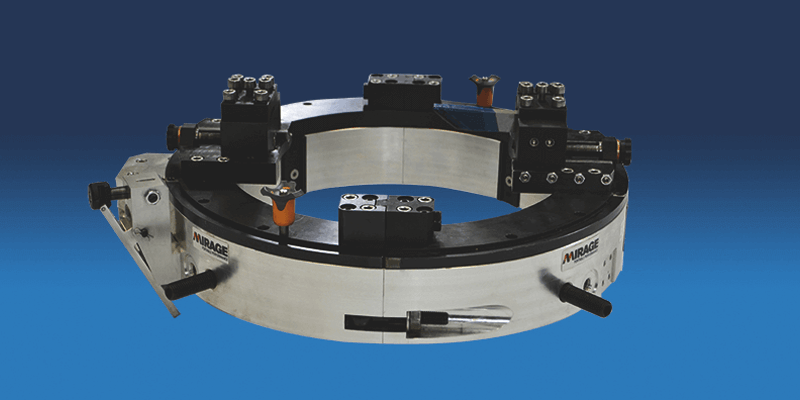 Pipe cutting operations made simple
With HTL's Pipe Cutting equipment, also known in the industry as split frame cutters and clamshell cutters, you can simplify jobs and complete them quicker with the use of one machine.
The low clearance split frame pipe cutting and bevelling machines produce high metal removal rates and with a large adjustment range and suited to any in-situ set-up, our Mirage Portable Pipe Cutter and beveling machine has been designed to increase efficiency.
The rigid design assures precise and high-quality cuts. HTL's range of Mirage Portable Machines have the ability to cut pipes or casing from 6 to 48 inches diameter and are capable of cutting any wall thickness or material including carbon steel, stainless steel, hastelloy and incology ensuring efficiency.
Wellheads
Wellhead prep is made fast and easy with our sever/bevel feature, however with versatile and adaptable features, the Mirage Pipe Cutter and Bevelling Machine can carry out a variety of cutting operations to suit the application and desired result.
The HTL Pipe Cutting Machine machine is supplied complete with everything you need including:
one off split half drive ring
gearbox and drive motor
one off cutting
one off bevel toolboxes
striker feed unit with adjustable cut feature
integral clamping unit and spacers
toolkit including air filter lubricator and hose connection
storage/shipping box
packing list and manual
To get an instant quote or more information contact us: call +44(0)1670 700 003 or email info@hiretorque.com / info@htl-australasia.com.